Air Canada Vacations - London your Way.
Air Canada Vacations offers the very best of Europe for 2012. Our flight, hotel and tour options make it easy to prepare and book your European holidays.
Enjoy a selection of great products (2-city rail packages, Multi-city tours, Cruises, Coach tours, and more) in one of Air Canada's European destinations:
Offers include:
2-City Rail Packages

Multi City Tours

Two great cities, one easy package. Enjoy conveniently bundled international flights, rail travel & hotels.
Live a unique experience in Europe with the following Multi-city tours.
A Tale of Two Cities: London & Paris
Two to Tango: Barcelona & Madrid
A taste of temptation: Paris & Brussels
Fashion Capitals Rail Journey: London - Paris - Milan - Rome
A Taste of Tradition London - Amsterdam - Brussels - Paris

Cruises in Europe

Escorted Coach Tours

Air Canada Vacations offers a large selection of cruises throughout Europe.
Follow your guide through some of Europe's most amazing cities.
Plan your cruise in Europe
Sailing from Athens? Book a Louis Cruise
Essential Britain
Essential Europe
Essential Italy
Normandy, Brittany & Chateau Country

City Packages

Cars, Rail and Transfers

A convenient way to explore Europe's top cities
Call 1 877 411 6359 NOW to request Air Canada's car-rental options. Air Canada also offer transfers & rail passes in Europe

ValuePacks

When you book a tour, remember to add-in popular activities & transfers to save on your vacation

Air Canada's Advantages

Free seat selection
Upgrade to Executive Class® service or Comfort Plus seating
1,000s of hotels in more than 45 European cities
Fly into one city and out of another
Convenient connectors from 65 Canadian cities
In-flight seat-back entertainment from gate to gate on most flights
Mobile app, web and mobile check-in
A hot meal and complimentary spirits and non-alcoholic beverages on transatlantic flights
411travelbuys.ca:
We Find it. You Buy it. FOR LESS!!!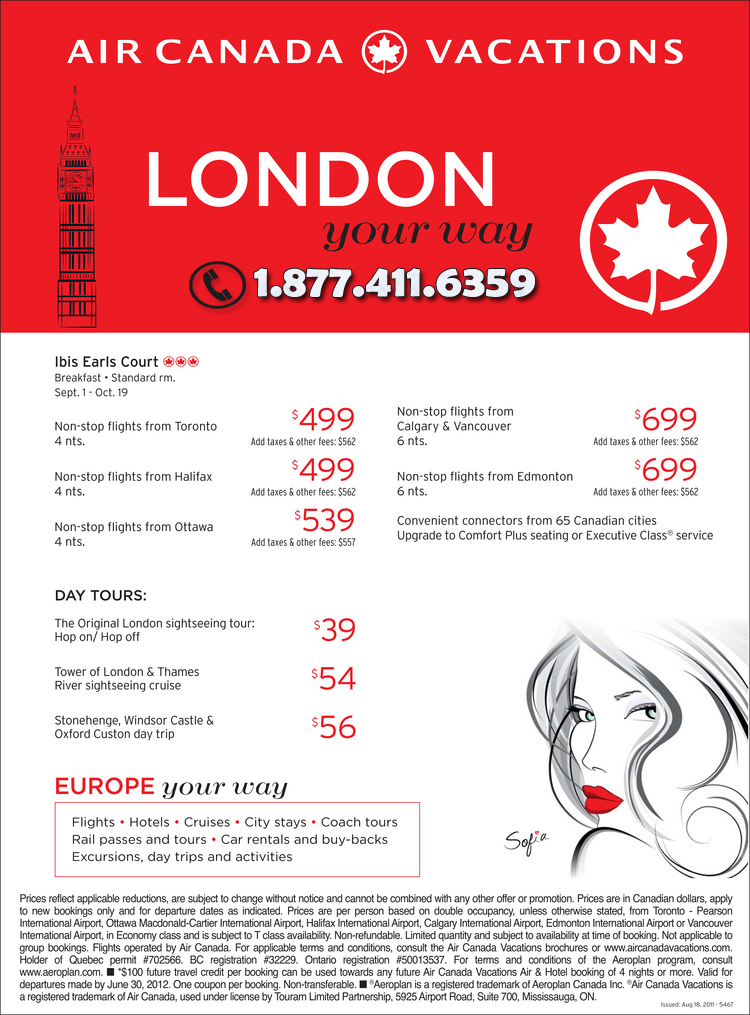 ---