Sunwing Heads for Europe
PEAK SUMMER FLIGHTS TO EUROPE WITH SUNWING VACATIONS!
PLUS buy one seat and get a second seat at half price
Sunwing Vacations has made a bold move into Europe, hoping to leverage its new-found partnership with U.K.-based TUI Travel PLC to bring as much competition to packaged tours and flights across the Atlantic in the summer as it has to Mexico and the Caribbean in winter.
All flights operating on wide-bodied Boeing 767's and include generous FREE checked baggage allowance, welcome aboard glass of Champagne, hot towels, choice of meals with complimentary wine, complimentary soft beverages, complimentary headphones and first run movies.
These new programmes will operate throughout the peak season, from 16 June through to 12 September, on board wide-bodied Boeing 767 aircraft operated by Sunwing Airlines.
Service will be available between:
• Toronto and London (Gatwick) four times weekly
• Montreal and Paris (de Gaulle) twice weekly
• Toronto and Paris (de Gaulle) twice weekly,
• Toronto and Dublin weekly
• Toronto and Porto weekly
• Toronto and Lisbon weekly
• Toronto and Rome (Fiumicino) weekly
Also, for a limited time, Sunwing is offering a "buy one seat and get a second seat at half price" offer on select flights to Europe. The sale is valid on new reservations made between April 6 and 19 for Sunwing flights from Toronto to London (Gatwick) or Amsterdam, and Toronto or Montreal to Paris (de Gaulle). Those looking to travel to Italy and Portugal this summer can also take advantage of this offer, as it also applies to Sunwing's flights from Toronto to Rome departing Aug. 5 onwards, and Toronto to Lisbon or Porto flights departing Aug. 10 onwards. For flights to Rome, Lisbon and Porto prior to those dates, there's still a deal available with "buy one seat, get 30% off a second seat" on every other flight.
Sunwing: . . . experience the difference
.*
411travelbuys.ca:
We Find it. You Buy it. FOR LESS!!!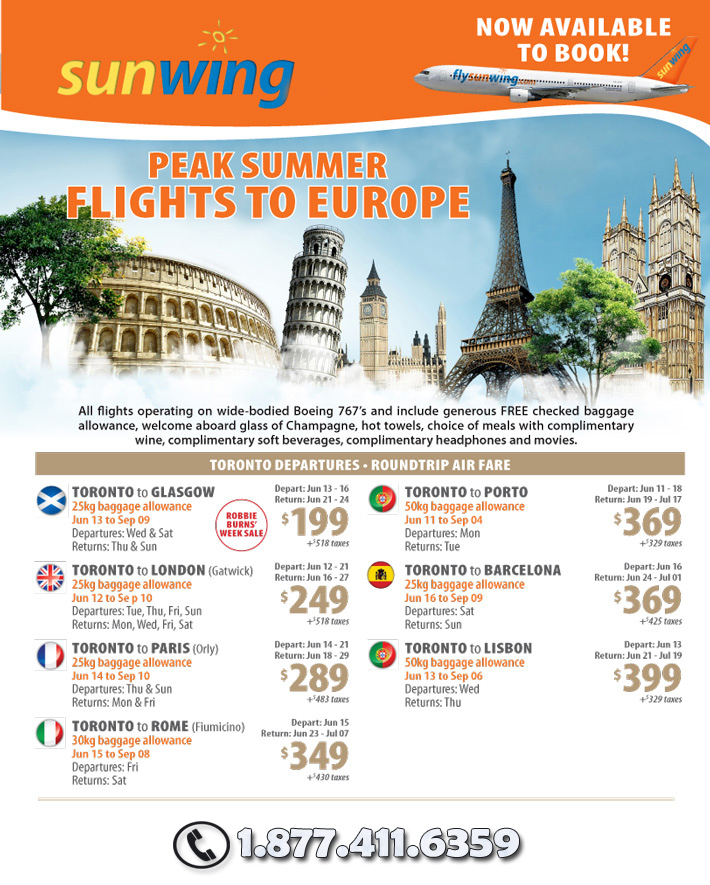 Rates shown are roundtrip air fare based on Economy Class for new bookings only unless otherwise specified. Seats at these prices are limited and capacity controlled. Other dates available at varying rates. All transportation taxes are extra. Subject to government approval. Flights are on Sunwing Airlines unless stated otherwise.
---