Take Advantage of the European Vacation Sale NOW!
Globus Tours Europe and North America Vacations*
Save 10% when you book a 2012 Globus North America Vacation and pay in full by September 27th, 2014*.
The dream of European travel is easily turned into splendid reality with our broad range of Europe vacation packages across a continent of distinctive cultures. When it comes to experiencing Europe, we take you there in a variety of new ways. To truly experience a desirable place is to do it at the most desirable pace.
Whether your dream vacation is a tour of the charming countryside of Italy or Germany, the majestic National Parks of the United States or across our own breath-taking backyard, Globus family of brands has been providing unparalleled vacation experiences for 85 years. As the leader in fully-escorted tours & travel packages, every Globus vacation is full of discovery and insight - making sure every journey tells a story.
Are you travelling on a budget? Get in all the sights at an affordable price with a Cosmos escorted vacation package to Europe or North America. Celebrating 50 years, Cosmos remains the travel style of choice for the savvy, practical traveller.
GLOBUS: Journeys you can believe in
411travelbuys.ca: . . .we find it for less!!!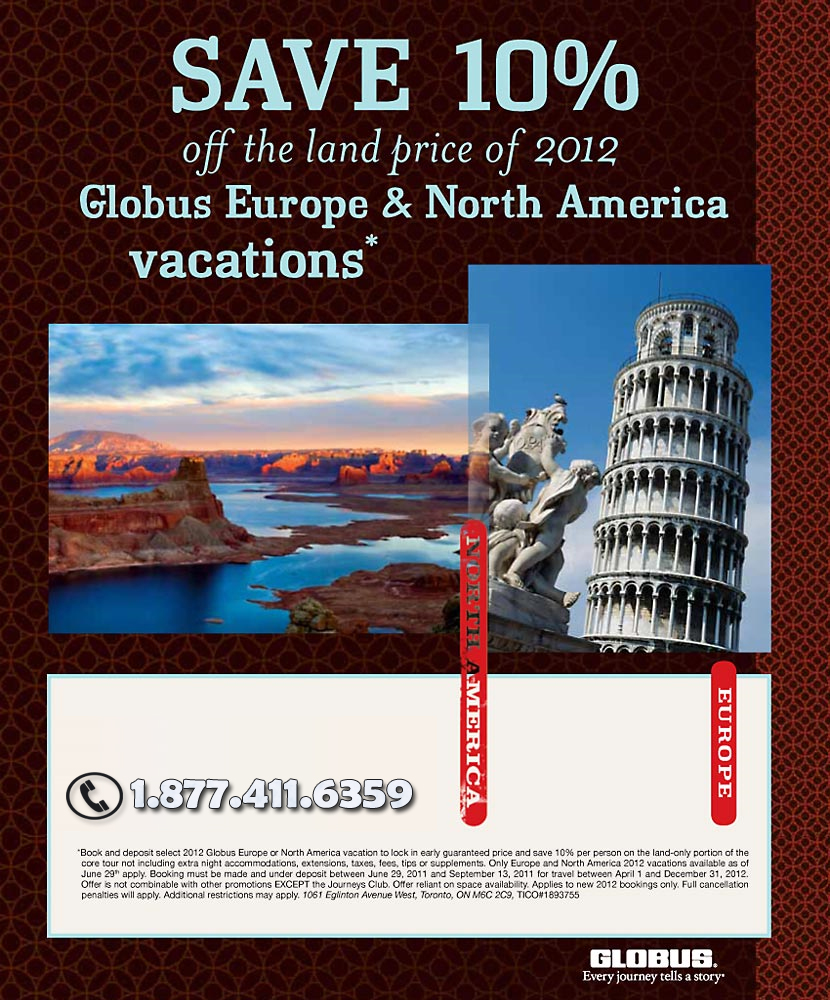 GLOBUS: Journeys you can believe in...
*Save 10% when you book a 2012 Globus North American Vacation and pay in full by September 13th, 2014*. *Book and deposit selecv 2012 Globus Europe or North America vacation to lock in early guaranteed price and save 10% off per on Land Only portion of the core tour - not including extra night accommodations, extensions, taxes, fees, tips and supplements. Only Europe and North America vacations available as of June 29, 2014.
Offer is not combinable with any other promotions EXCEPT Journeys Club. Offer reliant on space availability. Applies to new 2012 bookings only. Full cancellation penalties will apply. Additional restrictions may apply.