ROME SUMMER FLIGHTS!
One way special SALE! $9 Toronto departures with Sunwing
Ontario Departure Schedules with Sunwing Vacations!
Take advantage of Sunwing's limited time Unbelievable Sale from Toronto to Rome. Offer applies to September 02, 03, 09 and 10, 2014 departures.
Sunwing's Rome flights take you to the most romantic of destinations, a city with a wealth of beauty and history, sometimes called the Eternal City. Opulent, arrogant and incredibly striking, this is a city with much to offer.
Rome will both exhilarate and exhaust you; there is simply so much to see. The saying is that Rome was not built in a day, and that is clearly demonstrable when you begin to explore all that Rome has to offer. Quite apart from the Vatican, there are museums and parks, as well as temples, churches, and basilicas. Not forgetting, of course, that Rome offers extraordinarily good food and wine. Your flight here gives you access to all this and more.
Sunwing: . . . experience the difference
.*
411travelbuys.ca:
We Find it. You Buy it. FOR LESS!!!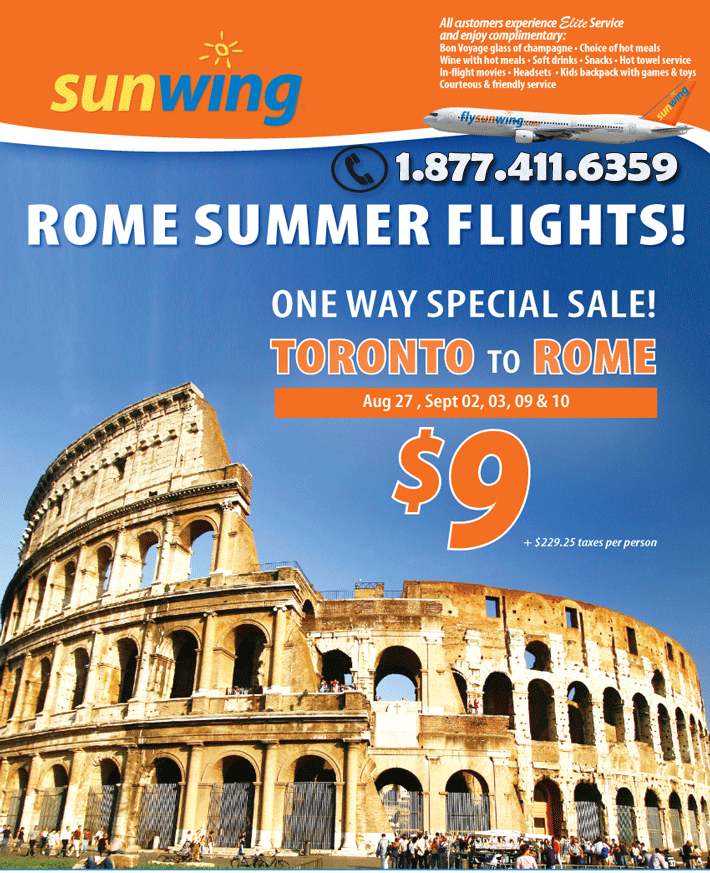 Toronto departures. Price shown is one way airfare per person and was available at time of publication. seats at the above price is limited and subject to change without prior notice. Applicable to new bookings only. Not combinable with any other offer. Transportation taxes and related fees shown must be pre-paid.
---