Family Fun in France, Spain & Italy with Air Canada Vacations!
Air, Hotel and Car Rental
Air Canada Vacations offers the very best of Europe for 2014. Their flight, hotel and tour options make it easy to prepare and book your European holidays.
Destinations Include::
France:
Bordeaux (City of wine),
Cannes (Lifestyles of the rich and famous),
Lyon (Simple French elegance)
Marseille (Cultural fusion),
Nice (Jewel of the azure coast); and
Paris (Catch Moulin Rouge)
Italy
Florence (City of the Renaissance),
Milan (The Italian supermodel),
Naples (Pizza margherita),
Palermo (The magic of Sicily),
Rome (The Eternal City),
Sorrento (The ruins of Pompeii); and
Venice (City on the lagoon)
Spain
Barcelona (City of the Mediterranean),
Bilbao (The Basque country); and
Grotto Bay Beach Resort
Costa del Sol (with Europe's best beaches)
411travelbuys.ca: We Find it. You Buy it. FOR LESS!!!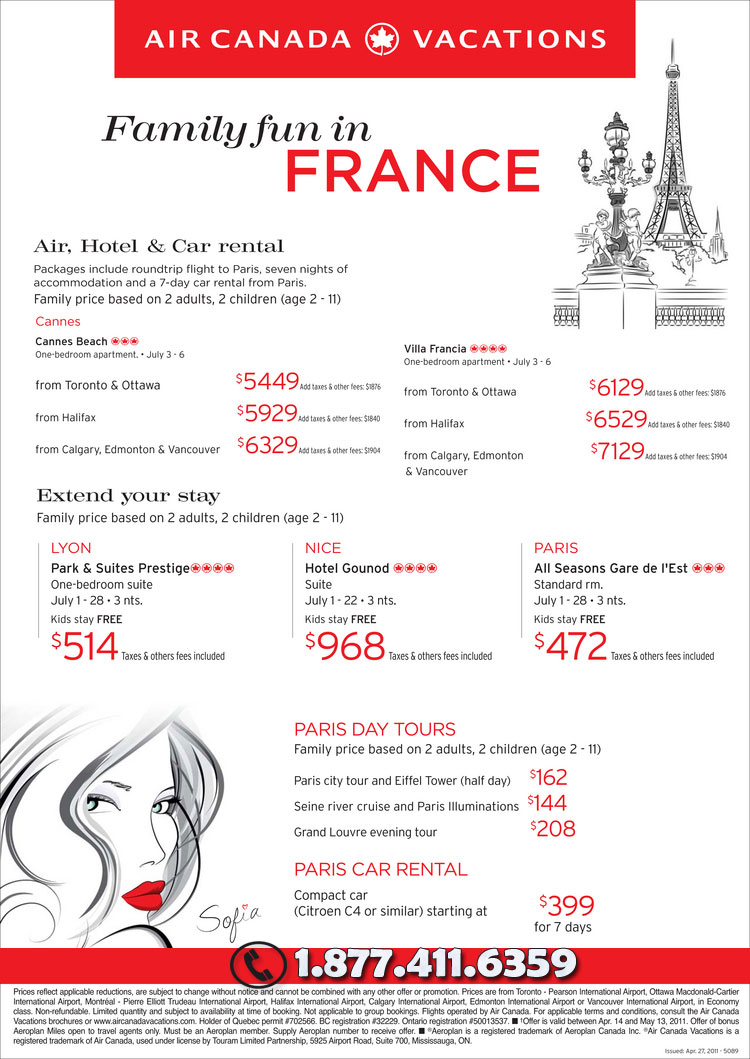 Family price based on 2 adults, 2 children (ages 2 -11)
Prices reflect applicable reductions, are subject to change without prior notice and cannot be combined with any other offer or promotions. Prices are from Toronto, Ottawa, Montreal, Halifax, Calgary, Edmonton and Vancouver. Not applicable to group bookings. Flights are operated by Air Canada.
New bookings only. Subject to availability. Offer is subject to change without notice and cannot be combined with any other offer or promotion.
---