5,000 Canada seats at $50 with Sunwing Airlines
Flights for Sale until May 30, 2014
Sunwing Airlines has just made it a whole lot easier to see Canada – and the Sunshine State. They've put 5,000 seats on sale at just $50 one way when you book a roundtrip flights on the carrier's Coast to Coast and Florida flights on selected dates. The sale is in effect for bookings taken between April 12 and midnight April 25 – or as long as seats last. It applies to flights taken between May 11 and June 21 as well as September 5 to October 31.
Applicable routes include Toronto to Orlando, Florida; as well as all flights on Sunwing's newly-expanded domestic service linking Toronto to 11 cities across the country from Victoria to St. John's. Flights between Montreal and Vancouver are also on sale. Sunwing Airlines offers complimentary in-flight entertainment with yours-to-keep headsets as well as light lunches. Florida-bound travellers also enjoy a complimentary glass of champagne. On all flights over 3 ½ hours, passengers also receive a complimentary meal including a choice of hot entrees served with red or white wine.

The fares are one-way based on round trip airfare. Also, they are available only new bookings and do not include taxes and related fees.

The destinations being offered are Canadian gateways: Toronto-Montreal-Charlottetown-Halifax-Sydney-St.John's-Stephenville-Deer Lake-Vancouver-Gander-Edmonton-Calgary-Orlando.
Sunwing: . . . experience the difference
.*
411travelbuys.ca:
We Find it. You Buy it. FOR LESS!!!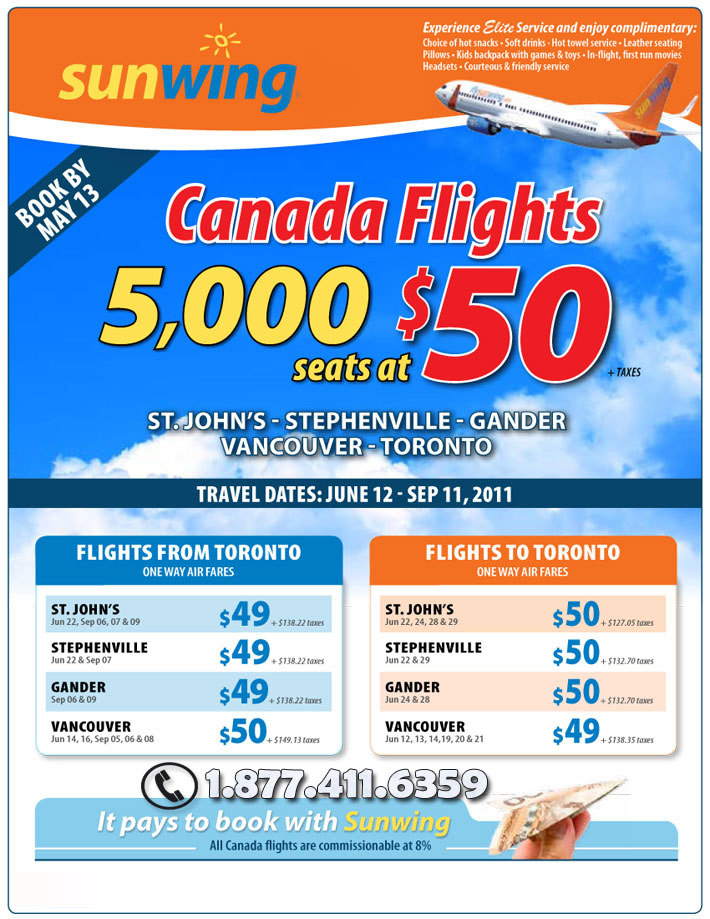 Rates shown are roundtrip air fare based on Economy Class for new bookings only unless otherwise specified. Seats at these prices are limited and capacity controlled. Other dates available at varying rates. All transportation taxes are extra. Subject to government approval. Flights are on Sunwing Airlines unless stated otherwise.
---