Signature Vacations launches Summer Family Special
...limited time offer
Signature Vacations is offering families a chance to save up to 40% OFF on their next one-week vacation.
For the duration of this promo, bookings will be automatically adjusted to reflect the savings and families can take advantage of sale prices already available in the reservation system.
Offer is available out of Toronto, West Canada and Quebec.
Don't Wait!!! This deal won't last forever!
Signature Vacations: . . . vacations with you in mind!
.*
411travelbuys.ca:
We Find it. You Buy it. FOR LESS!!!
Select your Gateway for this Promo: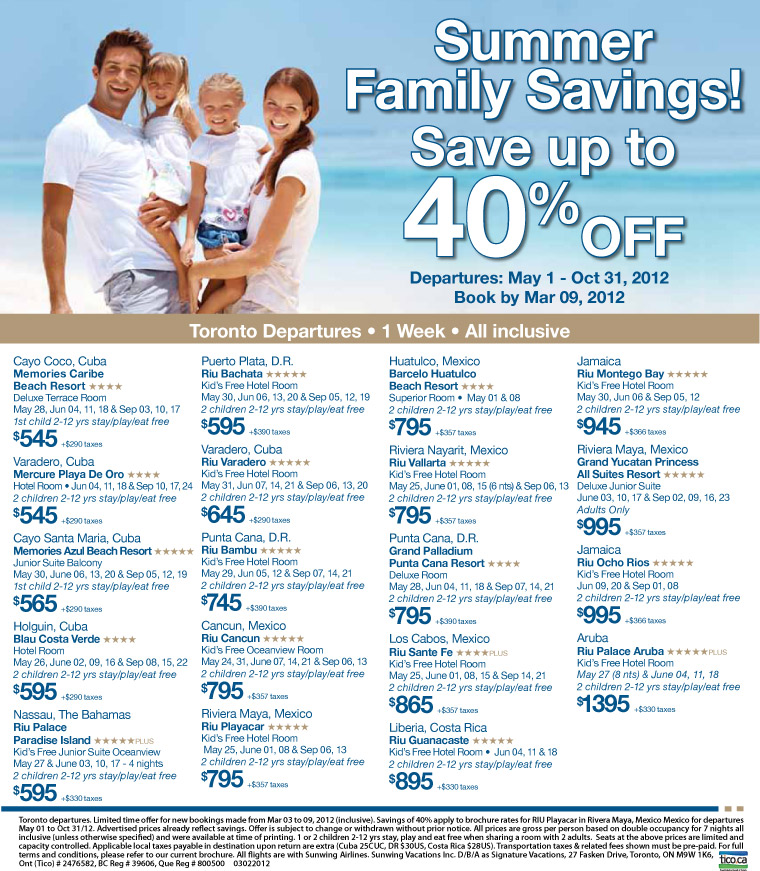 Signature vacations offer great last minute deals for select vacation packages from across Canada to the Caribbean, Mexico & Costa Rica. Book a 1 week, all inclusive package today. Space is limited!
Signature Vacations has over 150 hotels and resorts, most of which are all inclusive in destinations throughout Mexico, Central America and the Caribbean, with direct flights from 29 cities across Canada. They also offer escorted tours, group discounts and affordable air only options for their clients. Call 1 877 411 6399 today or visit the 411travelbuys website for your next cheap All Inclusive, family friendly vacation packages to sun destinations
---